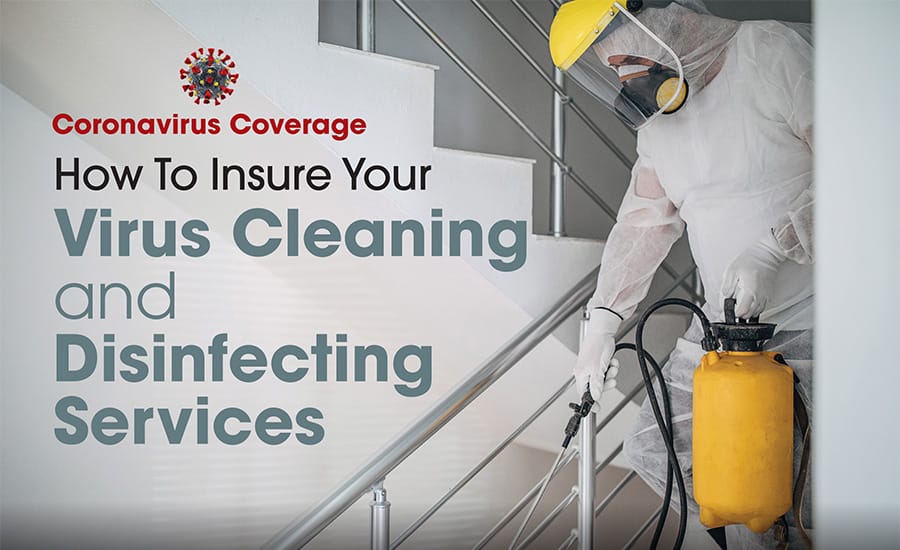 How To Insure Your Virus Cleaning and Disinfecting Services
By David J. Dybdahl
July 10th, 2020
COVID-19 has put the cleaning, restoration, and insurance businesses on a wild ride. As you've heard me say time and time again, the vast majority of restorers are not adequately insured today for biohazards in general; coronavirus just made things worse. Special insurance is needed to address the risks associated with the coronavirus. Below I will layout a strategy to get your firm insured for the coronavirus risk.
The past few months have been like living the Wild West for contractors; awaiting the arrival of some authority to ride into town and provide direction. As many restorers were laying off entire staffs due to the government-driven shut-downs, other restorers were advertising that they could "vaporize viruses", while insurance companies accelerated the pace in issuing biohazard exclusions anywhere they could.
As these market trends were unfolding, the potential to have unprecedented demand for professional cleaning services loomed on the horizon for the idle cleaners and restorers.
Insurance agents have been on a wild ride as well. Most insurance agencies were already paperless, so working from home was not a big issue for them. But insurance agents had another problem arising from COVID-19 that we had to deal with: none of the insurance policies we had in place on our customers were designed to cover coronavirus risks or losses arising from a pandemic. That turned out to be a big problem for cleaning and restoration firms who were needed to decontaminate buildings. New insurance coverage needed to be invented, but to create that needed coverage was like trying to buy flood insurance during a flood.
At this point, I knew the policies we had in place were not adequate to deal with the risk of a pandemic, so I started the product R&D work to create specialized environmental insurance to cover virus decontamination work as soon as flights from China were stopped. That turned out not be enough lead time. Although we had affordable affirmative grants of coverage for virus decontamination work in place for our current customers within days of the virus-driven shut-downs, no one had good options to offer for first-time buyers of functional biohazard insurance.
The New Normal
Because no insurance policy in force today was originally designed to address COVID-19 pandemic risks, new coverage extensions needed to be created. Those insurance coverage solutions for cleaning and restoration firms are coming online quickly and are available to firms that meet the qualification criteria of the insurance companies. The choices for insurance offering the essential Affirmative Grant of Coverage for virus related services are very limited, and availability will vary depending on the services mix and qualifications of different companies.
Managing the risks of coronavirus is the new normal. A well-designed General Liability + Contractors Pollution Liability + Professional Liability insurance policy that has been endorsed to cover full spectrum biohazards including virus is the most reliable coverage design. Other insurance coverage designs can work, but the coverage is not easy to verify.
Read More COVID Articles and RESOURCES
The amount of information on the Coronavirus is overwhelming and is constantly changing. We are adapting to those changes in real-time offering current and reputable resources to our hard-working cleaning and restoration contractors. Best of all, it's FREE to all!