Finally an AFFORDABLE environmental insurance solution for commercial property owners and Managers!
Specially designed and priced environmental insurance policy to fill the gaps of coverage in property and liability policies. The first and only environmental insurance program that offers broad-spectrum bacteria, legionella, fungi, and mold coverage for indoors within a structure.
Successful Solution For Commercial Property Owners
Apartments
Hospitals and Clinics
Condos
Public Buildings
Office Complexes
Shopping Centers and Retail spaces
Schools and Municipalities
Assisted Living
Etc.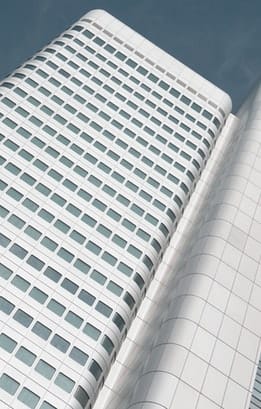 Contact your ARMR
HPR 3.0™ Specialist
Any ARMR Producer
Marketing@armr.net | 877-735-0800
ARMR HPR 3.0™ is a risk management protocol designed to address the environmental risks of commercial and residential property owners and developers at affordable rates.
What Is ARMR HPR 3.0™?
The first and only environmental insurance program offers broad-spectrum bacteria, Legionella, fungi, and mold coverage indoors within a structure. The program includes no cost, integrated, boots on the groundwater intrusion loss control plans for the site(s)
Includes coverage for bodily injury and property damage caused by lead or asbestos
Lower premiums than market pollution policies
Coverages also included:
-Transportation Pollution liability
-Non-Owned Disposal Site liability Coverage
Available for additional Premium:
-Business interruption
-Loss of Occupancy
-Underground Storage tank with financial responsibility if needed
WHY ARMR HPR 3.0™ IS NEEDED
Universal exclusions in property and liability insurance policies for pollution, legionella, fungus, mold, bacteria, asbestos, and lead make ARMR HPR™ an essential component of the insurance programs of property owners. By accessing water intrusion loss control services from a network of certified contractors, we can offer the ARMR HPR 3.0™ insurance policy at savings of up to 50% of the historical cost of similar insurance.
READ MORE HERE ON ARMR HPR 3.0
ARMR HPR 3.0™ Vs. EIL
Minimum premium starting at $7,500 for a 3-year policy term puts environmental insurance within easy reach of most commercial properties. ARMR HPR 3.0™ is needed to fill the coverage gap from the pollution, fungus, mold, and bacteria exclusion.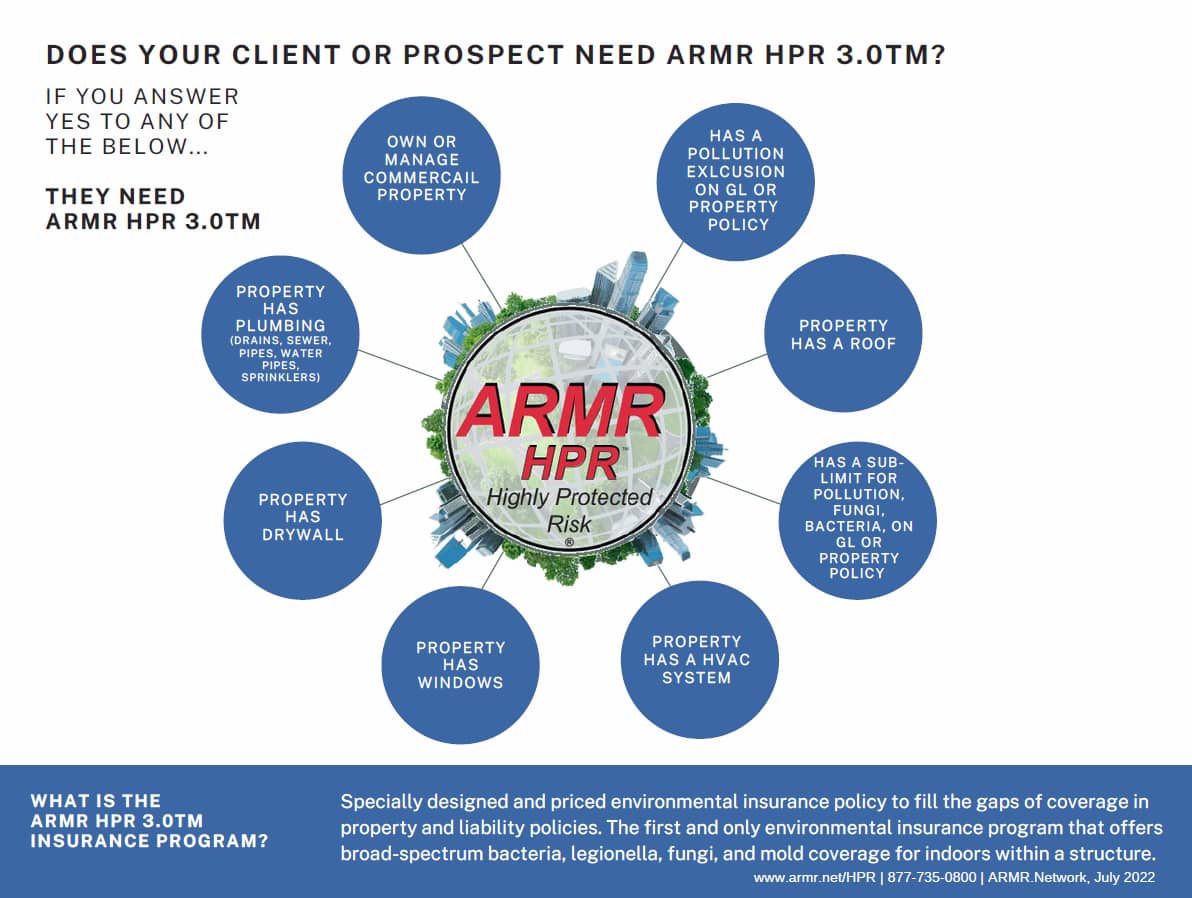 Environmental Risk Management and Insurnace Product Details
ARMR HPR 3.0™ Combines water intrusion loss prevention with environmental insurance!
Minimum Premium
$ 7,500 Multi-Year
policy term including coverage for legionella/fungus/mold and other microbial matter.
Named Insureds
All Stakeholders
Developer, Owner, Lender as Loss Payee, and Future Buyers of the Property (including the Homeowners Association when applicable) The ARMR HPR 3.0™ policy can be assigned to subsequent owners without additional premium.
Available Limits
$ 50,000,000 of Liability
ARMR HPR 3.0™ Production-Pac
The ARMR HPR 3.0™ Production-Pac comes complete with 90 pages of comprehensive sales support material, the official ARMR HPR 3.0™ national launch training workbook, a copy of the national launch presentation slides, and much more that you will not find in the training handouts. If that is not enough, the ARMR HPR 3.0™ Production-Pac includes a 100-page journal, 2 high quality pens, a zip-up padfolio with a binder, and an executive desk organizer!
Recent Reviews of Webinar
Thank you so much for the webinar. You did a great job explaining.
Vredevoogd-Brummel Risk Management
I wanted to tell you that I found your presentation very educational this morning!
Alltech Restoration
We are pretty excited about the new program
BB Insurance Marketing, Inc.
You guys really are terrific to work with. I feel strongly about this coverage and encourage all my partners and producers to get quotes for their building owners.
KIG Insurance- Glenn H. Warsh