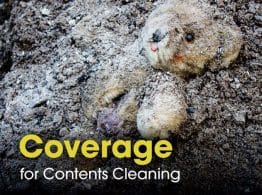 Major issues to watch out for:
Restrictions or limitation on storage and/or duration of storage for personal property of others
No coverage for property in transit
Exclusion for property for which you issue a receipt or record of storage
Coverage is not provided on a direct physical loss basis
Low/inadequate limits of insurance
Coverage for Contents Cleaning
by: David Dybdahl and Aaron Millonzi
Over the last few years, contents cleaning and restoration has become an important service for restoration and remediation contractors to provide. Not only can it be profitable, it also offers contractors the opportunity to set themselves apart from their competitors. Innovations in methods and new technology have made it not only easier, but also less expensive and safer to perform these services. As you consider adding this as something your firm offers, I strongly encourage you to consider how this will affect your insurance situation. More specifically, it's important that you confirm your business is adequately covered should you add this service, because many restoration and remediation firms are not!
The exclusion states there is no coverage for property in the care, custody or control (CCC) of the insured, but what exactly does that mean? The general consensus is this:
"Care" refers to temporary charge of personal property (i.e. you're in charge of the stuff),
"Custody" implies a keeping or guarding of that property (i.e. you're keeping it safe), and
"Control" refers to power or authority to manage, superintend, direct or oversee (i.e. you can do what you want with it).