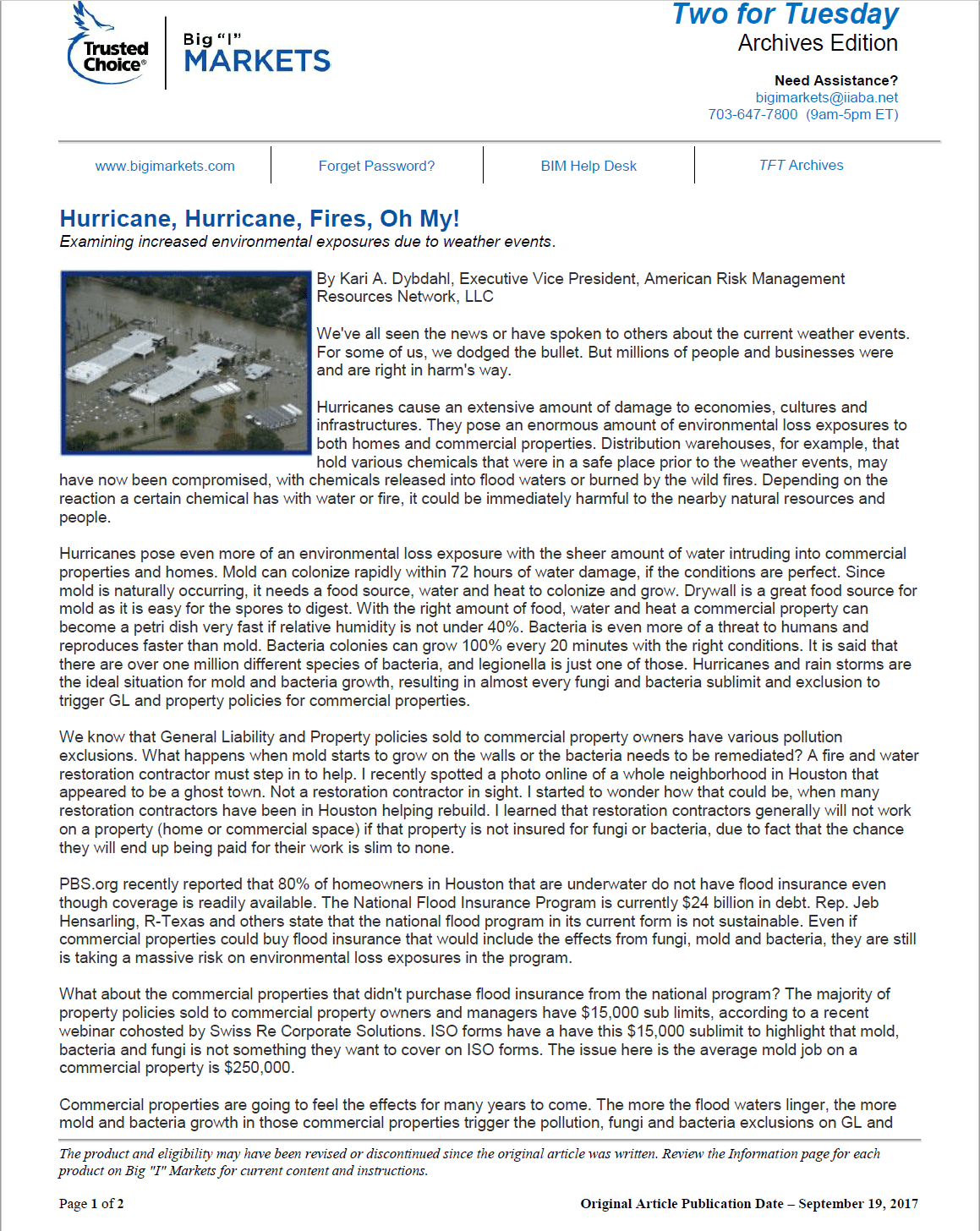 Examining increased environmental exposures due to weather events. By: Kari Dybdahl
We've all seen the news or have spoken to others about the current weather events. For some of us, we dodged the bullet. But millions of people and businesses were and are right in harm's way. Hurricanes cause an extensive amount of damage to economies, cultures and infrastructures. They pose an enormous amount of environmental loss exposures to both homes and commercial properties. Distribution warehouses, for example, that hold various chemicals that were in a safe place prior to the weather events, may have now been compromised, with chemicals released into flood waters or burned by the wildfires. Depending on the reaction a certain chemical has with water or fire, it could be immediately harmful to the nearby natural resources and people.
Hurricanes pose even more of an environmental loss exposure with the sheer amount of water intruding into commercial properties and homes. Mold can colonize rapidly within 72 hours of water damage, if the conditions are perfect. Since mold is naturally occurring, it needs a food source, water and heat to colonize and grow. Drywall is a great food source for mold as it is easy for the spores to digest. With the right amount of food, water and heat a commercial property can become a petri dish very fast if relative humidity is not under 40%. Bacteria is even more of a threat to humans and
reproduces faster than mold. Bacteria colonies can grow 100% every 20 minutes with the right conditions. It is said that there are over one million different species of bacteria, and legionella is just one of those. Hurricanes and rain storms are the ideal situation for mold and bacteria growth, resulting in almost every fungi and bacteria sublimit and exclusion to trigger GL and property policies for commercial properties.